The EVO 3 ELF is a combined unit which features an exposure with automatic lid, and light finisher.

It is designed to process solvent-washable as well as water-washable, polyester-backed, analogue and digital plates up to a size of 90 x 120 cm (36x48 inch) and thickness up to 7 mm (0.276 inches).

The standard version is equipped with a stress-accumulation early-warning-system and may be equipped with optional tools that enable remote-monitoring and remote-diagnostics.
Exposure
New cooling bed system to grant a uniform and constant temperature without any exposure time limit
Vacuum system for analogic plates exposure
Probe for temperature control
High concentration of UVA lamps to ensure the highest UV output in its class 
Light integrator
Lamps air flow cooling system with temperature control
Optical fibers lamp control
Light-Finisher
Auto combined UVA-UVC post exposure (simoultaneous/consecutive/delayed)
Air flow cooling system
Optical fibers lamp control
Encumbrance

The minimum distance should be of 0.8 mt (31.49") in front and at the rear and 1 mt (40") to the sides.

The respect of the minimum distance from the walls is critical to allow sufficient space to the users and the engineers to be able to have access to the system in case of maintenance and repairs.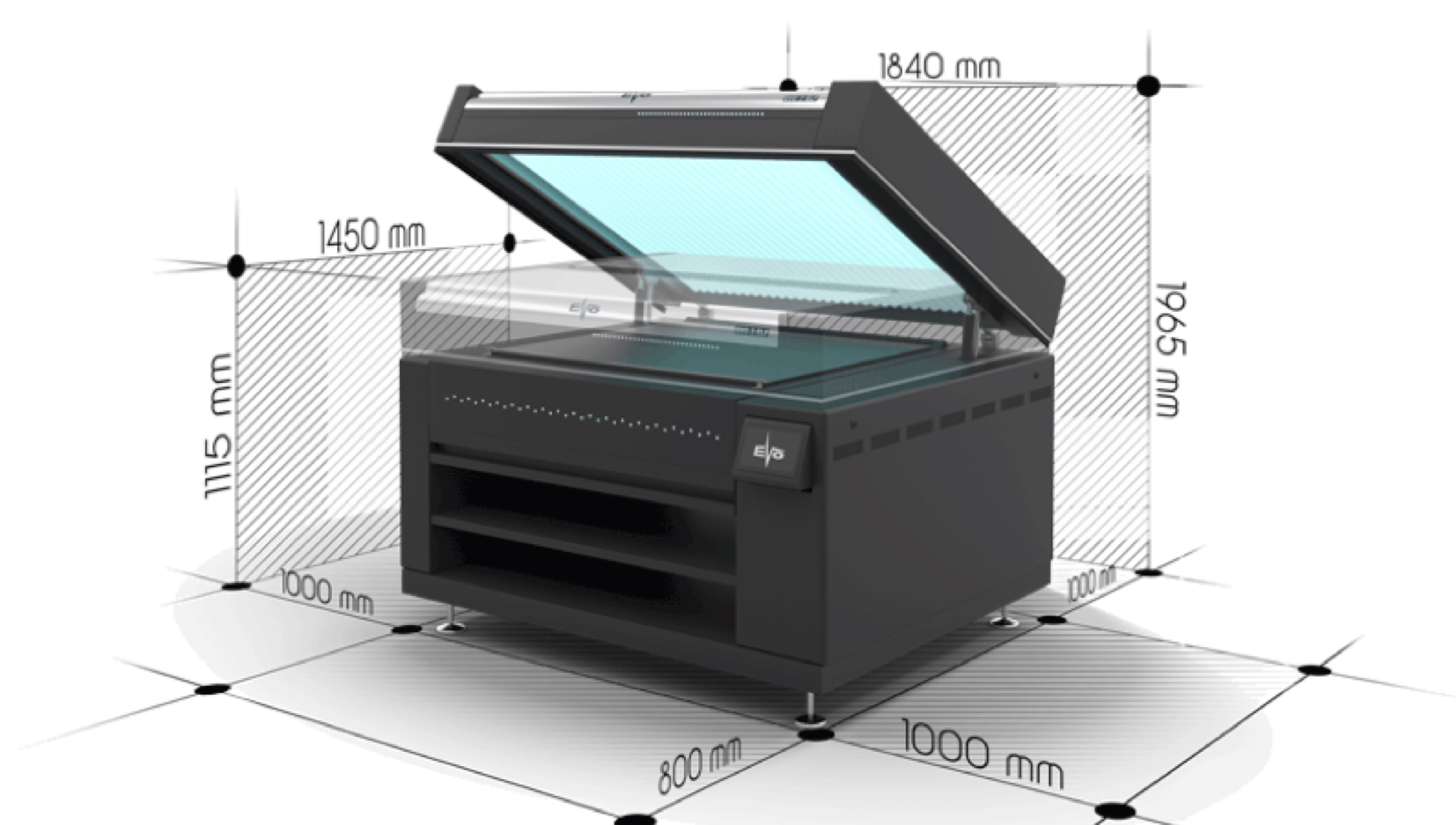 CE Certification
The  equipment is designed and manufactured according to the EEC safety and health standards, as specified in the Type Examination Certificate No. MA19-0042548-01 (309) issued by IMQ spa – Via Quintiliano 43 – 20138 Milan ITALY, and on the basis of the verifications carried out according to the essential requirements of the Directive 2006/42/EC, the system respects and is in compliance with all the applicable points.
General Features
This PLC controlled, exposure and light-finisher combined unit is specifically designed for high quality digital and conventional photopolymer plates for tag & label and small flexible printing applications (e.g. narrow web). 
Modular
This unit can be used is complementary to a fully automate Easy to Plate™ system. 

One of the most important feature of the Easy to Plate™ is the modularity concept, in other words, each unit is an independent piece of equipment buyable separately with the possibility of being upgrated and attached to one other to compose an all-in-one automatic unit. This gives you two choices: buy the whole automatic line at once, or ammortize the investment and buy the different units over a longer time frame.
Solvent
This System is suitable for analogue and digital, polyester backed, solvent-washable photopolymer Flexo plate
.
Exposure
- High concentration UV-A radiations
- Lamps temperature management
- Controlled airstream for lamps cooling
- Exposure bed temperature management
- Water cooled exposure bed
- Light integrator for compensation of UVA aging lamps
- Vacuum system for analogue plates
- Fibre optics for lamp control
Light Finisher
- Flexible post exposure and light finishing sequence
- Static cooling system (air cooling)
- Fibre optics for lamp control

Production Data Recording
This Vianord systems offer the opportunity to benefit from extensive production data collected directly from the platemaking system. Your production data can easily be turned into actionable information. You will be able to build reports customized for your own production needs to calculate and display operations data throughout your organization. Platemaking operations that are operated and maintained based on actionable information are more reliable and more profitable.

Stress-Accumulation Early-Warning
The system provides Early Alerts when the time to replace an over-stressed part, causing too much risk, has come. This innovative function allows users to intentionally replace parts that are tired, aged, and degraded just before they fail. More than one hundred parts, critical to the uptime of the system, have been identified and data relative to their maximum-lifetime-expectations stored in the software.
Remote Diagnostics
Remote-Monitoring and Remote-Diagnostics (to be purchased separately); The concept of automation symbolises high quality and productivity, so ensuring you experience minimal downtime, for Vianord is essential. For that reason, this EVO system may be fitted with an Industrial VPN Gateway - EWON COSY 131 - designed to offer Vianord Certified Engineers remote access, across the Internet. This innovative system will help you keep uptime high, maintenance costs low, and extend the system's useful life.
System Dimensions (net)
184 x 145 x 111.5 cm w/Lid open 196-200 cm 

(72.44 x 57.08 x 43.89" w/Lid open 77.36-78.74")
Packing Dimensions
Light Packing on Pallets is preferred and recommended when the system requires a full truckload and is shipped just within Europe. Dimensions: 202 x 202 x 135cm (79.5 x 79.5 x 53.1")

Industrial Wooden Crates are favoured if the system must withstand multiple transhipments during transport and is mandatory when shipped outside the continent. Dimensions: 202 x 202 x 153cm (79.5 x 79.5 x 60.2")

The dimensions mentioned above are for reference only; packaging dimensions may vary depending on the packing company hired for the job.
Packing Weight
Light Packing on Pallets: 680kg (1500Ib)


Industrial Wooden Crates: 780Kg (1720Ib)

The weights mentioned above are for reference only; packaging weight may vary depending on the packing company hired for the job.
Mains Electricity
Power Supply (field configurable)
360 / 440 Volt – 50 / 60 Hz - 3Ph / N / PE   -   207 / 243 Volt – 50 / 60 Hz - 3Ph / PE

Current (nominal load)
10 A (360/440 Volt configuration)   -   18 A (207/243 Volt configuration)

Power Rating (nominal)
6.5 Kw

Connecting Wires
5 x 4 mm2 (360/440 Volt configuration)   -    4 x 6 mm2 (207/243 Volt configuration)


Compressed Air Supply
To perform to the best of its possibilities, the system requires a continuous and stable supply of compressed air at a pressure of at least 7 bar (101.5 psi) and not more than 10 bar (145 psi), with pressure dew point 3°C and max. residual intake oil content of < 0.01 mg/m3. Consider also an average consumption of 70 l/hr. The system installation kit includes a 5-meter - Ø 6mm air connecting pipe for push-in fitting.
Exhaust
The unit is equipped with a well-designed exhaust system that collect and conveys vapours and fumes from the different sections the machine and discharge them as quickly and silently as possible. The blower in the systems has sufficient power to vent the entire equipment when the tube supplied is connected directly to a vent hoods in the external wall or on the roof.

Duct connection (V19): Ø 140 mm (5.5")     Airflow: 400-600 m3/h
Duct connection (V20): Ø 140 mm (5.5")     Airflow: 400-600 m3/h
Working Environment
The system should be installed in a clean, constant-temperature and constant-humidity pre-printing environment with a temperature between 18 and 26°C (64.4 and 78.8°F) and a non-condensing relative humidity in the range of 40 to 60%.
To maintain such environmental standards an efficient heating/cooling and ventilating system may be required.

System Colour
Vianord offers all equipment in standard powder coating Vianord Black.

In addition, Vianord offers numerous ways you can personalize your system. In fact, Vianord offers the best customization options in the industry! This allows you to showcase your brand and company's spirit in ways other companies can't offer. You can choose your personal colour and have your logo, company name, or slogan pop.